Sandra Bullock graced the red carpet at the Santa Barbara International Film Festival last night, picking up the festival's first big award of its 25th year, the American Riviera Award.
Pictures of the 2010 Santa Barbara Film Festival were added to the gallery:
Not only has award winner Sandra Bullock looked stunning on the red carpet this year, it seems she's been looking good for a cause.
Celebrity and First Lady-favored jeweler Bochic has launched a charitable initiative in conjunction with the 2010 awards season. Any of the brand's pieces worn by a star on one of the famed red carpets will be auctioned off this spring, with 100% of the proceeds going to Charity: Water to support clean drinking solutions in Haiti.
After hearing this plan, Bullock donned a diamond-adorned Bochic bangle — with an Alexander McQueen dress — for her victorious night at the 2010 SAG Awards and now the $5,250 black Bakelite dazzler, with 18kt white gold and diamond detailing, will go to the highest bidder in April.
"We love Sandra, we have worked with her in the past," Bochic founder David Joseph told StyleList. "She is a very caring individual and we are beyond thrilled to have her support in this charitable initiative."
While Bochic anticipates more celebrities signing on for the cause, our eyes will be glued on Bullock's wrists, neck and ears on Mar. 7, when she walks the Oscars red carpet as a Best Leading Actress nominee, to see what might be up for grabs next.
Source: Stylelist.com
The Academy Awards Nominations were revealed today and, as expected, Sandy is nominated for Best Performance by an Actress in a Leading Role for her role in The Blind Side. The movie was also nominated for Best Picture. Congratulations, Sandy!
Best Performance by an Actress in a Leading Role
Sandra Bullock for The Blind Side

Best Motion Picture of the Year
The Blind Side
Sandra Bullock wouldn't reveal where she was on nomination day — "I like the privacy of our home bubble," she said of her secret California hideaway — but was awakened by a phone call telling her she had snagged an acting nomination for "The Blind Side." Despite her wins from SAG and the Golden Globes, she still didn't think she would hear her name, so the night before it was her usual routine: cooking for her family, putting her kids to bed and then hitting the sack. "I'd always assumed that the road to Oscar was planned. I thought people chose projects that were considered 'Oscar-worthy.' No one wanted to make this film. I didn't want to make this film for the better part of the year," she said. "Everyone is as blindsided — can I say that? — as I am." But as surprised as she was, Bullock said the most moving part of the morning was hearing that her movie got a best picture nomination. "That's what makes me emotional. John Lee Hancock spent two years of his life on something that no one else saw. And now he's been recognized!" She added: "I love that there's 10 nominees. It doesn't matter if they win, but I think it's great that everyone gets their moment in the sun." Bullock said she planned to talk her dad and sister and "enjoy some time with the people who loved me before I started doing all this."
Actress Anne Hathaway and A.M.P.A.S President Tom Sherak annouce 82nd Academy Awards Nominations:
Down with the bombshell. Out with the sex kitten. In Hollywood this Oscar season, real women are at the top.
Sandra Bullock, Mo'Nique and Meryl Streep have already raked in Golden Globe and Screen Actors Guild awards. But are they letting it go to their heads? Forget it. When Bullock beat Streep for the best actress SAG trophy last Sunday, a reporter backstage told her she had become the front-runner in the awards race. Her response: She told him to shush.
They are the queens of awards season, but 10 years ago, you might never have guessed these would be the women at the podium. In youth-obsessed Hollywood, there's always a new star on the rise, and for a time Streep and Bullock's careers seemed to be flagging. Plus, who would have believed that Mo'Nique, best known for her tell-it-like-it-is brand of standup comedy and stint as as a reality TV host, would nail a dramatic role steeped in heartbreak? Read More
Sandy has just won the Best Actress award for The Blind Side. Congratulations, Sandy, you deserve this and much more and we are so proud and happy for you!
You can see the first HQ pics on the gallery:
I've added a bunch of Sandy pics at the 67th Annual Golden Globe Awards:
Gallery Links:
Public Appearances » 2010 » Jan, 17: 67th Annual Golden Globe Awards – Show
Public Appearances » 2010 » Jan, 17: 67th Annual Golden Globe Awards – Red Carpet
Public Appearances » 2010 » Jan, 17: 67th Annual Golden Globe Awards – Press Room
Public Appearances » 2010 » Jan, 17: 67th Annual Golden Globe Awards – Portraits
Public Appearances » 2010 » Jan, 17: 67th Annual Golden Globe Awards – Instyle Party
We're back! After long time without any news arround here, we are back for good. I'll do my best to update the website with all the amazing news and pics that came out while the web was off.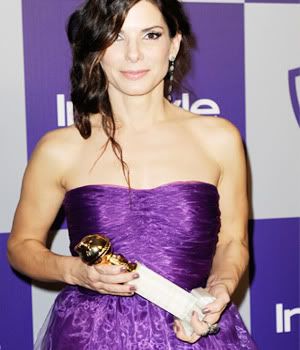 As you may know already, Sandra won a Golden Globe for her performance in The Blind Side. I'm a fan for a long time and I couldn't be more proud and happy for her, she deserves this and much more. Congratulations, Sandy!

/