As Sandra Bullock mulls her next move — most likely starring opposite Tom Hanks in an adaptation of Jonathan Safran Foer's novel Extremely Loud and Incredibly Close — EW takes a look inside her stunning comeback, examining how she consciously retooled her career, how she transcended the tabloid noise, and where she might go from here.

One thing's for sure: Bullock has no shortage of options. At age 46, a decade and a half after she jumped on the bus in Speed, the actress is being courted for virtually every female starring role Hollywood has to offer, from a Disney family fable called The Odd Life of Timothy Green to Our Wild Life, a drama about an elephant orphanage. There's also the action comedy EW reported about exclusively in June called Most Wanted, in which she'd star as a criminal suspect being escorted to the courthouse by a U.S. marshal (played by her Proposal costar Ryan Reynolds). "Every movie you hear about and every script I see, they say, 'We're going after Sandra Bullock for the woman,' " says Ben Affleck, who costarred with Bullock in 1999′s Forces of Nature. "She's the golden girl," says a top Hollywood agent. "Everyone is rooting for her. I've never seen anything like it."

Indeed, it's been quite a year for the actress: The two biggest hits of her career. A Best Actress Oscar. A tabloid firestorm. A new baby. EW examines her rising status in Hollywood, and how, thanks to the intangible chemical reaction that creates stardom, she's always had a knack for making audiences fall in love with her. "From the minute we saw her in Speed, she just had this quality that people want to be around," says Bradley Cooper, who costarred with Bullock in last year's All About Steve. "It's like being around a source of light."
Source: EW.com
Sandy was spotted grabbing some coffee in Starbucks in Austin, Texas, yesterday, August 30. Enjoy the pictures!
Tom Hanks is very excited to get work started on the film adaptation of Jonathan Safran Foer's second novel, "Extremely Loud and Incredibly Close." Why? Well, aside from the story — which follows a nine-year-old boy in the aftermath of the 9/11 attacks — he can't wait to work with fellow Oscar-winner Sandra Bullock.

"Well I have left a voicemail for Sandra … Sandy. Can I call her Sandy? I can call her Sandy. I think she called the office back, but I hope to talk to her very, very, very soon," the Emmy-winning Hanks told MTV News at the HBO Emmy afterparty. "The story is magnificent. Eric Roth wrote a brilliant screenplay, which makes our lives very easy because you just read it and you say, 'I would be honored to be a part of this.' "

Although he isn't a close friend of Bullock, he does admire her work. "I am a huge Sandra Bullock fan. I've only met her a couple of times. She is a magnificent actress," he raved. "And every time we've seen her, even just as recently as 'The Proposal' and 'The Blind Side,' we've thought, 'We'd be lucky to work with her.' "

"Extremely Loud" is focused on a New York boy whose father was killed in the 9/11 attacks. The boy finds a key that belonged to his dad, but he doesn't know what it unlocks; the plot follows his attempt to answer that question. Foer's book employs an untraditional writing style that incorporates multiple interconnected story lines, photographs and the like.

The rights to the novel were first acquired several years ago. Scott Rudin is producing and Stephen Daldry ("The Hours") is attached to direct, with a script from "Forrest Gump" writer Eric Roth. Warner Bros. is the lead studio on the project.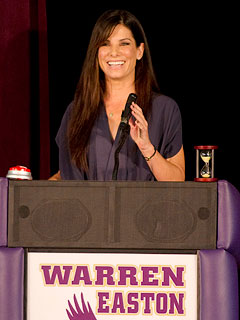 Despite the rain-soaked gray Sunday morning and the somber fifth anniversary of Hurricane Katrina, Sandra Bullock managed to get a laugh out of the crowd at Warren Easton Charter High School in New Orleans.

Flipping over an hourglass, the Oscar-winning actress joked, "THIS is all the time I have."

Bullock, a part-time New Orleans resident, donated money to help rebuild the school and to open a student health clinic. She appeared at weekend events to pay tribute to those behind the hurricane recovery effort.

"I have seen nothing but unimaginable kindness, perseverance and hope right in this room here," said Bullock. "It gives me great pleasure to be in the company of these people who have actually made the difference. They did the hard work, they are here sitting before you."

Joking that she was beginning to sound like a politician – "No offense," she laughed to U.S. Sens. Mary Landrieu and David Vitter – Bullock said that despite the devastation, the anniversary should be seen as day for celebration.

"These young adults have seen the very worst, and they are committed to the very best," said Bullock. " They are our future leaders. I would like to thank the students who step up to the plate and do the hardest work. I didn't do it in high school, and it makes me so incredibly proud."

Wearing a V-neck dark blue knee-length dress, black belt and heels, Bullock stood with school nurse Cassondra Ferrand and principal Alexina Medley and other officials to cut the gold ribbon on the new health facility behind the school.

"It was more than her money," says Easton Foundation board member Arthur Hardy. "She is like our spiritual leader. She is our angel."

"What do you say about a human being who just pours out their heart and soul, who puts their money where their mouth is, walks the walk, talks the talk," adds Mayor Mitch Landrieu. "And even if is was just in a movie, she married a New Orleans boy."

For more information about the school and to donate to ongoing efforts, go to the Warrant Easton Charter Foundation.
Source: People.com
I've added the first pictures of Sandy in New Orleans today, August 29. She looks amazing, don't you think?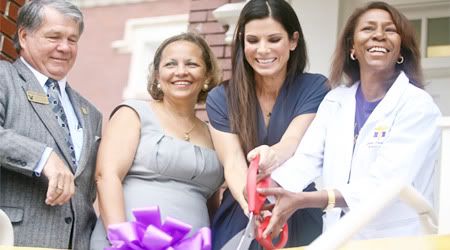 Sandra Bullock arrives at Warren Easton Charter High School in New Orleans Sunday Aug. 29, 2010, on the five year anniversary of Hurricane Katrina to cut the ribbon on an on campus health clinic for the school. Bullock, The Kellogg Foundation and the San Francisco 49ers Foundation were the main financial contributors of the $700,000 facility.
Source: Kerry Maloney
Sandy was spotted out & about in Austin, Texas this week, take a look at the pictures:
• Candid Photos > 2010 > August, 22: Out & About in Austin, TX

• Candid Photos > 2010 > August, 24: Shopping for antiques in Austin, TX

• Candid Photos > 2010 > August, 25: Leaving Bess Bistro in Austin, TX

According to the Today Show website, Sandra Bullock will be interviewed by Matt Lauer on tuesday, August 31 in New Orleans. Don't miss it.
Last April, as his name was being tossed around in the derby for choosing a director for The Twilight Saga: Breaking Dawn, Stephen Daldry went far classier by choosing to direct an adaptation of Jonathan Safran Foer's Extremely Loud and Incredibly Close instead. The novel about a young boy coping with his father's death on 9/11 was much more in line with Daldry's track record of Billy Elliott, The Hours and The Reader, and I also assumed he'd once again pluck a young actor out of obscurity to play the lead and make him a star, as he did for Jamie Bell and David Kross.
While the role of the lead character, a clever nine-year-old growng up in Manhattan is still up for grabs, IndieWire reports that Daldry has cast two of his leads. Tom Hanks and Sandra Bullock will play the boy's parents, and though the father character is dead for much of the book, apparently he'll be seen in a series of flashbacks. The Curious Case of Benjamin Button writer Eric Roth adapted the screenplays, and given Hanks's Oscar pedigree, Bullock's recent win and Daldry's three nominations, this is about the most Oscar-baity cast you could imagine without making the movie about the Holocaust.
Production is set to start in January in New York City, and as the search for the lead character is just beginning, it might be a while before we see a name finalized. Still, with Bullock and Hanks on board– it will the first film Bullock has made since she won an Oscar, got a divorce and adopted a baby in the course of a few months– the movie has been guaranteed a clear road through production. Oscar season 2012 may well have its first entry.
Source: Cinema Blend
According to the new edition of People magazine, the adoption of Louis has been finalized. We're so happy for you, Sandy!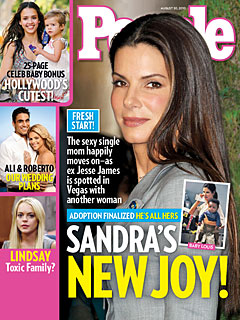 Sandra Bullock is offering words of welcome as her ex-husband Jesse James prepares to move to her adopted hometown in Texas.

"I support Jesse in his move to Austin," the Oscar winner, 46, tells PEOPLE exclusively in this week's cover story. "We have both moved on with our lives and only want the best for each other. Anything else that is said on my behalf is inaccurate."

For Bullock, moving on includes finalizing her adoption of 8-month-old son Louis on Aug. 13 surrounded by friends and her sister Gesine in a New Orleans courtroom. "She is so in love with her child," says a source.

As for motorcycle CEO James, 41 – who recently stepped out in Las Vegas with LA Ink star Kat Von D. – he too is starting to move on in the wake of the cheating scandal that led to his June divorce from Bullock, according to a James source.

"I think he's starting to grasp reality a bit more," says the source, "and the realization that it's going to take a lot longer and a lot more than he thought to bring things back to what they were."
Source: People.com

/