Sandy has just arrived at the 82nd Academy Awards. Looking absolutely stunning in a golden dress.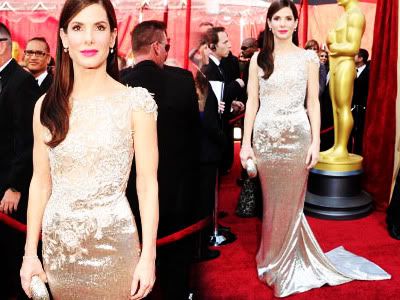 As you know, Sandy attended the 30th Golden Raspberry Awards , most known as Razzie Awards, yesterday, on March 06. I've added some pictures to the gallery: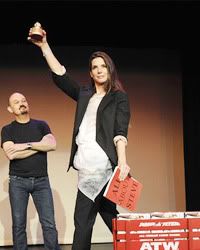 "Something tells me you all didn't watch the film," Sandra Bullock said as she accepted the Razzie Award as worst actress of 2009 for "All About Steve" at the Barnsdall Gallery Theater in Hollywood on Saturday night. "I thought no one went to see this film, but I know that there are more than 700 members here. That means that the majority of the 700 cast their vote, so that means 352 …?"
As she arrived on stage, she pulled a wagon filled with DVDs, noting, "We brought everybody in the audience a DVD of 'All About Steve.'" She asked the audience members to watch it, rethink their decision and if they agree that she really wasn't that bad, "I will come back next year. I will give back the Razzie."
Showing good humor, Bullock accused members of voting for her just because she promised to attend.
"I said I would show up and then I miraculously won!" she said, adding that her victory is further proof in Hollywood that "all you have to do is show up and you get an award."
"I brought the shooting script," she added. "I'm willing to go through page by page, read the line the way I did it in the film and, if anyone wants to give me a line read of how I could've done it better…. We can do this till about 4 o'clock in the morning. Or you guys can just watch the movie and rethink your decision, and I'll show up next year and we can go out for a drink afterward." The audience cheered and applauded. Read More
Sandy was spotted Leaving the Gym on March 2 & 4. She was also spotted Shopping for some groceries on March 4:
Gallery Links:
• March, 04: Leaving the gym
• March, 04: Shopping
• March, 02: Leaving the gym
We've created an Oscar Support Capaign on Twitter so all fans can support Sandy together on that social network, check our Oscar capaign page to know how to join us:
I've updated the 2010 Candids Section of the gallery:
Jan, 12: at Il Cielo
Added 100 HQ pictures of the 41st NAACP Image Awards, take a look:
Sandy has just arrived at the NAACP Image Awards. Looking beautiful.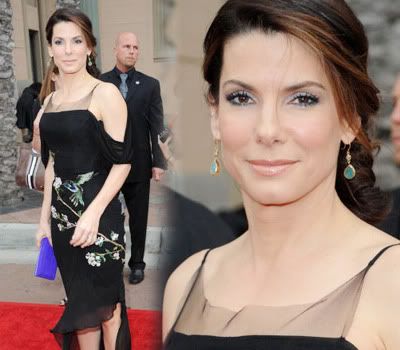 Sandy, The Blind Side and Quinton Aaron are nominated for the NAACP Image Awards that aires today, february 26. Sandy is expected to attend the event so let's hope she really goes and, of course, wins.
Outstanding Actress in a Motion Picture
Sandra Bullock – "The Blind Side" (Warner Bros. Pictures)

Outstanding Motion Picture
"The Blind Side" (Warner Bros. Pictures)

Outstanding Actor in a Motion Picture
Quinton Aaron – "The Blind Side" (Warner Bros. Pictures)
The Oscars are coming and I can't stop reading the previews and I decided to post this Oscar Roundtable. It's intersting to read what the critics have to say, let's hope they're right and Sandy wins that more than deserved Oscar:
3. In the Meryl Streep vs. Sandra Bullock Best Actress race, do you have a sense that a different actress might upset either of those two? Or do you think Sandra Bullock has it in the bag?

Wloszczyna: Gabby, Helen, Carey? I am just not feeling it although Mulligan is the only one with a teensy chance. What sentiment exists out there right now for one of those ladies to pull off a sideswipe? Sandra feels like a certainty to me.

Harris: I defer to sharper handicappers on this question. My sense from chatting with voters is that it's very close between Bullock and Streep, and Sidibe and Mulligan are both getting support from people who feel like voting for a promising newcomer (which probably cancels out the possibility of either of them sneaking in to upset the two frontrunners).
/