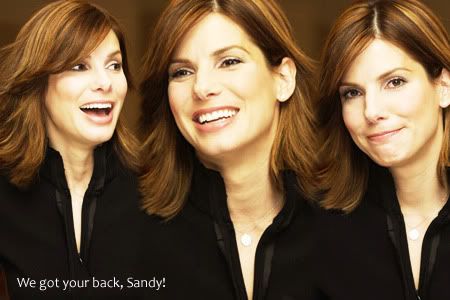 Oh Sandy, you have no idea how sorry I am for you. Not only because the content of the rumors but mostly because people are just so disrespectful. And by people, I mean those people who publish those tabloids and keep saying what you should do with your life. We, your fans, just want you to know that we are here for you, we've always been here for you and you can be sure that we got your back. We want you to do whatever you think is the best for you and let you know that we will support you no matter what you decide.
We love you and we just want you to be happy. Keep this beautiful smile on your face and don't ever forget that you're an amazing actress and more than that, you are an incredible, beautiful, smart, funny woman that makes us happy and proud to be your fans.
Ps.: Please, leave your support messages for Sandy on this post and again, do not offend Jesse and please, do not say the name of the woman you all know who is. This is a space dedicated to support Sandy not to talk about the content of the rumors. Comments with inappropriate content won't be accepted. Thank you.
Ps.2: Only comments in english will be accepted!
Jesse James provided an official statement to People Magazine:
The vast majority of the allegations reported are untrue and unfounded. Beyond that, I will not dignify these private matters with any further public comment.

There is only one person to blame for this whole situation, and that is me. It's because of my poor judgment that I deserve everything bad that is coming my way.

This has caused my wife and kids pain and embarrassment beyond comprehension and I am extremely saddened to have brought this on them. I am truly very sorry for the grief I have caused them. I hope one day they can find it in their hearts to forgive me
EDIT: Guys, I know you all want to support Sandy but comments offensive to Jesse won't be accepted. We all know Sandy and I'm pretty sure she would not like that. So if you wanna show your support to her, you can comment here, of course, but do not offend Jesse. We still can't be sure about the whole situation, the press makes everything looks bigger and harder and we should support Sandy, as we always do, but sending her only POSITIVE energies! We can't decide anything for her. We have to support her no matter what she'll do. That's what fans are for! Thank you for understanding!
Some people asked me to say something about the rumors that come out today and I'm sorry to inform that we can't tell you guys anything. Those are just rumors. Neither Sandy or Jesse have said anything about it, so we will have to wait and see how that goes. I know the fans want to know what's happening but this is their business and we have to respect that. I repeat, those news are JUST RUMORS. Nothing is going to be said about it untill things are official so please do not ask us for info.
Thanks for understanding,
Webmiss.
According to E! Online, Ryan Reynolds told about a possible reunion of him and Sandy. Let's hope it's true!
"We're talking about something, so hopefully it'll pan out," Reynolds told us about a possible reunion.

When we asked if they're gearing up to be the next Spencer Tracy and Katharine Hepburn, a modest Mr. Reynolds said, "I would never dare make that comparison, but I'm happy you did.

"But yeah, if we can find that right thing," he continued, "we're going to do it immediately."
Sandy was spotted leaving the gym and picking up her stepdaugher, Sunny, on March 11:
I've update the 2009 & 2010 Public Appearences section of the gallery:
Gallery Links:
• Public Appearances > 2010 > March, 07: 82nd Annual Academy Awards – Vanity Fair Party
• Public Appearances > 2010 > March, 07: 82nd Annual Academy Awards – Backstage
• Public Appearances > 2010 > March, 07: 82nd Annual Academy Awards – Red Carpet
• Public Appearances > 2010 > March, 06: 30th Golden Raspberry Awards
• Public Appearances > 2009 > November, 17: 'The Blind Side' NY Premiere
• Public Appearances > 2009 > November 19: 'The Blind Side' New Orleans Benefit Premiere
Sandra Bullock was spotted shopping with her stepdaughters Sunny and Chandler James in Seal Beach, California on March 9.
Sandy was spotted leaving The Oprah Winfrey Show yesterday, March 8:
Added the first bunch of 82nd Academy Awards pictures, take a look:
Sandra Bullock!

Yes, Sandy won the Best Actress in a Leading Role award in the 82nd Academy Award for her performance as Leigh Anne Touhy in The Blind Side! Congratulations, Sandy! You deserve this and much more, you are an incredible actress and an incredible person! We love you!

/