There are some news arround the internet about 4 new movie projects that Sandy has. I don't really believe they are really coming out because those movies have been rumored for long time now and still didn't come out. Anyway, all we can do is wait and hope she'll be back to the business soon.
Everyone's wondering what Oscar-winner Sandra Bullock's next steps will be. Will she take time off to clean up the mess that was heaped on her personal life by Jesse James OR let her lawyers handle it (i.e., dump the cheating loser) and get back to work on some fun films.

We're all for her jumping back on the horse and even talked about Sandra's situation with Entertainment Tonight last night.

No one knows (except maybe Sandra) which film will come together first but she does have four very interesting projects in the pipeline. She'll probably star (and be listed as a producer) on all four and two of them are being produced through her production company, Fortis. Here's the list:

"One of the Guys": a romantic comedy about a tomboy guy's gal (Sandra Bullock) who makes her BMFs uneasy when she starts to act more like a girl than a guy.

"The Sprinkler Queen": Sandra may play a Hollywood female agent who tracks her AWOL action star back to his small Wisconsin town to lure him back to work.

"Kiss & Tango": Sandra may play a woman goes to Argentina, falls in love with the culture and an Argentinian man and finds herself.

"Jingle": Santa's nastiest elf is left behind at a spoiled brat's house and has to reform the kid in order to get back to to the north pole. We presume she may play the kid's mother?

Anyway, they all sound like fun comedies and rom-coms, which plays to Sandra's strengths. We can't wait to see Sandy back on screen. And may we suggest "The Proposal 2"?
The rumors about the sex tape are not true. On April 6, Sandy made an official statement:
"There is no sex tape," she says in a statement to PEOPLE on Tuesday. "There never has been one and there never will be one."
Today, on April 7, Jesse James did the same:
"The claims of sex tapes are untrue and completely fabricated," says a rep for James in an exclusive statement to PEOPLE.
Source: People.com
"When all is said and done, he wants the same people who were living in his house before all this happened to still be living there," his attorney Joe Yanny tells PEOPLE. "And he wants to save his marriage with the woman he loves more than anything in his life."

James, who checked into the treatment facility last month after allegations of infidelity against wife Sandra Bullock, "is doing as well as he can be," says Yanny. "He's focusing on what he's doing and trying to make himself better."

His lawyer also believes the media has gone too far with constant coverage and by naming the treatment facility.

"The First Amendment was not meant to cover the sexual lives of people who are not in office," says Yanny. "This is sheer voyeurism and bullying, pure and simple. It's disgusting."
Source: People
More than 3 million copies of The Blind Side have been sold since its March 23 release, making it the top-selling DVD this week, according to sales and rental data released Wednesday night.

Bullock, 45, earned a best actress Oscar for playing Leanne Tuohy in the feel-good flick, which earned $255 million in theaters.
That's great! Congratulations, Sandy & all The Blind Side staff.
Source: US Magazine
Added bunch more pictures from the 82nd Annual Academy Awards:
Gallery Links:
– 82nd Annual Academy Awards – Rehersel
– 82nd Annual Academy Awards – Press Room
– 82nd Annual Academy Awards – Red Carpet
– 82nd Annual Academy Awards – Vanity Fair Party
Ps.: Don't forget to keep voting for Sandy, The Proposal & The Blind Side on the 2010 MTV Movie Awards!
You can help choosing 2010 MTV Movie Awards nominees until April, 9. You can vote every day on the links below:
• Best Kiss – Sandra Bullock & Ryan Reynolds – The Proposal
• Best Female Performance – Sandra Bullock – The Blind Side & The Proposal (I guess we should vote on this for The Blind Side, since she is running on the next category for The Proposal, so the votes won't split)
• Best Comedic Performance – Sandra Bullock – The Proposal
• Global Star – Sandra Bullock
• Best Movie – The Proposal & The Blind Side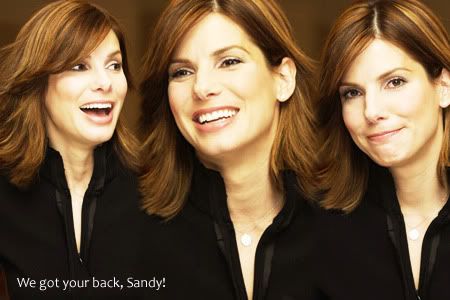 Oh Sandy, you have no idea how sorry I am for you. Not only because the content of the rumors but mostly because people are just so disrespectful. And by people, I mean those people who publish those tabloids and keep saying what you should do with your life. We, your fans, just want you to know that we are here for you, we've always been here for you and you can be sure that we got your back. We want you to do whatever you think is the best for you and let you know that we will support you no matter what you decide.
We love you and we just want you to be happy. Keep this beautiful smile on your face and don't ever forget that you're an amazing actress and more than that, you are an incredible, beautiful, smart, funny woman that makes us happy and proud to be your fans.
Ps.: Please, leave your support messages for Sandy on this post and again, do not offend Jesse and please, do not say the name of the woman you all know who is. This is a space dedicated to support Sandy not to talk about the content of the rumors. Comments with inappropriate content won't be accepted. Thank you.
Ps.2: Only comments in english will be accepted!
Jesse James provided an official statement to People Magazine:
The vast majority of the allegations reported are untrue and unfounded. Beyond that, I will not dignify these private matters with any further public comment.

There is only one person to blame for this whole situation, and that is me. It's because of my poor judgment that I deserve everything bad that is coming my way.

This has caused my wife and kids pain and embarrassment beyond comprehension and I am extremely saddened to have brought this on them. I am truly very sorry for the grief I have caused them. I hope one day they can find it in their hearts to forgive me
EDIT: Guys, I know you all want to support Sandy but comments offensive to Jesse won't be accepted. We all know Sandy and I'm pretty sure she would not like that. So if you wanna show your support to her, you can comment here, of course, but do not offend Jesse. We still can't be sure about the whole situation, the press makes everything looks bigger and harder and we should support Sandy, as we always do, but sending her only POSITIVE energies! We can't decide anything for her. We have to support her no matter what she'll do. That's what fans are for! Thank you for understanding!
Some people asked me to say something about the rumors that come out today and I'm sorry to inform that we can't tell you guys anything. Those are just rumors. Neither Sandy or Jesse have said anything about it, so we will have to wait and see how that goes. I know the fans want to know what's happening but this is their business and we have to respect that. I repeat, those news are JUST RUMORS. Nothing is going to be said about it untill things are official so please do not ask us for info.
Thanks for understanding,
Webmiss.
According to E! Online, Ryan Reynolds told about a possible reunion of him and Sandy. Let's hope it's true!
"We're talking about something, so hopefully it'll pan out," Reynolds told us about a possible reunion.

When we asked if they're gearing up to be the next Spencer Tracy and Katharine Hepburn, a modest Mr. Reynolds said, "I would never dare make that comparison, but I'm happy you did.

"But yeah, if we can find that right thing," he continued, "we're going to do it immediately."
/