Sandy and her cute baby boy, Louis, were spotted out & about in New Orleans on Mothers Day, May 9!
And don't forget to keep voting for Sandy on the 2010 MTV Movie Awards!
I'm so happy to inform that Sandy has been nominated in three categories in the 2010 MTV Movie Awards. Vote for her on the links below!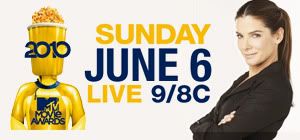 Best Female Performance – Sandra Bullock for The Blind Side
Best Kiss – Sandra Bullock & Ryan Reynolds for The Proposal
Best Comedic Performance – Sandra Bullock for The Proposal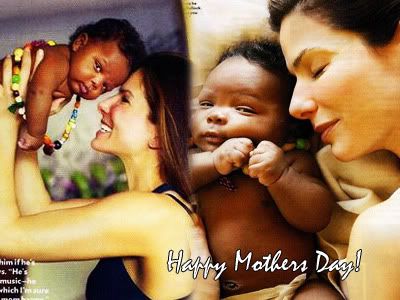 Dear Sandy,
I'm so happy to be able to wish you an incridible Mothers Day this year. I hope you have an amazing day with your baby boy and your family and enjoy every moment of being a mother. I wish you and Louis an incredible life together and I know he will bring you all the joy and happiness you deserve and you'll be such an incredible mother to him. Have an amazing day!
We'll alaways be here for you both. We love you.
Also, Happy Mothers Day to all the mothers in the world! I hope you all have a very nice day!
As you may know, there were few rumors on the internet about Sandy leavind Hollywood for good and not ever making a new movie again. Her rep denied those rumors on an official statement to People Magazine:
"In order to maintain Sandra Bullock's privacy, we will not comment on where she plans to live," says the actress's rep, who adds: "Although she has no definite projects set at the moment, she has every intention of returning to work."

Bullock, 45, has remained out of public view since introducing Louis to the world and revealing she had filed for divorce from husband Jesse James, 41, in the wake of the scandal caused by his infidelities. She brought the newborn home in January, four years after she and James began the adoption process, and will raise him as a single mom.
Source: People
I'm sorry guys, but we were contacted by People Magazine and they asked to remove the scans from the magazine. So we had to do that but I'm sure you all will get your copy and read the amazing interview that Sandy gave to the magazine!
I just found few more information about the interview she gave.
When she was asked about the necklace, she said:
Sunny made that necklace for him… to represent all the kids.
She talked about equality:
I want him to know no limits on where he can go. I want him to experience all culture, nationalities, countries and people like I did. I want his mind to be open and free. We were raised that we are all the same. No one greater, smarter, more powerful. We are all equal. I would love for Louis to know that . He has a big, beautiful, diverse family. As long as he know he is loved and protected and given the opportunity to touch and see everything, then I will have done my job as a mama.
And about the rumores about Jesse James and the Nazi stuff:
The photo shocked me and made me sad. This is not the man I married. This was stupid, this was ignorant. racism, anti-Semitism, sexism, homophobia, anything Nazi and a boatload of other things have no place in my life. And the man I married felt the same. This I hope Jesse will address one day, but that is not the world I live in or have ever lived in and have any tolerance for.
She also said that Louis had a bris:
A friend of ours helped arrange for a bris [Jewish circumcision ceremony] at the house, because we couldn't go [to a hospital for the procedure]. The mohel [a person trained in the practice] came to us. You have never seen adults more panicked about what was about to happen to their son, but the celebration and the amount of love we felt and the pride in the little man whom we love so, so much became the greatest moment I have ever had in my life.
Source: Jezebel
According to the new issue of People Magazine, Sandra Bullock is now a proud mom of a little baby boy, Louis Bardo Bullock. Congratulations, Sandy. I'm so happy for you!
In public, Sandra Bullock has been through the best and worst of times this year – from winning her first Oscar to enduring the breakup of her marriage. In private, she was quietly keeping a joyful secret – his name is Louis, and he is her newborn son.

"He's just perfect, I can't even describe him any other way," Bullock reveals exclusively in the new issue of PEOPLE, announcing that she is the proud mother of Louis Bardo Bullock, a 3½-month-old boy, born in New Orleans. "It's like he's always been a part of our lives."

Bullock, 45, and husband Jesse James, 41, began the adoption process four years ago and brought Louis home in January but decided to keep the news to themselves until after the Oscars. Their close friends and family – including James's children Sunny, 6, Jesse Jr., 12, and Chandler, 15 – were essential in keeping the adoption a secret.

Then, just 10 days after the March 7 Oscars, Bullock and James separated following reports James had cheated. Bullock says she is now finalizing the adoption as a single parent.
Source: People.com
I've added the scans from Psychologies Magazine (UK), April 2010 issue (Huge thanks to Snajper for the scans):
Also, I've added outtakes from the same photoshoot. Enjoy!
Added few outtakes from photoshoots photographed by Kirk McKoy and Andre Eccles. Enjoy!
Gallery Links:
Photoshoots & Scans > Photoshoots/Outtakes > 2009: Kirk McKoy
Photoshoots & Scans > Photoshoots/Outtakes > 2009: Andrew Eccles
Sandy is on the March issue cover of Phsychologies (Spain) magazine:
/