Sandy was spotted out & about on June 4 and 7, take a look at the pics!
Also, I've added bunch more MTV Movie Awards pictures.
Awesome news, guys! Apparently, Sandy and Ryan Reynolds will be together in a movie again! What do you think about that?
It looks like Sandra Bullock is keeping true to her promise that she isn't going anywhere.

The actress is attached to an upcoming project that could team her up with Ryan Reynolds – who costarred with her in The Proposal – for the action comedy Most Wanted, Universal Pictures and Mandeville Films announced Monday.

"The project is currently in development and she is looking forward to reading the script," says Bullock's rep.

The studio and production company closed a deal with Proposal screenwriter Peter Chiarelli for the upcoming film, which centers around a criminal suspect (which could be played by Bullock) who is escorted to court by an FBI agent (Reynolds) when they are ambushed on the way and forced to go on the run.

Reynolds will be an executive producer and Universal is currently in negotiations to bring Proposal director Anne Fletcher on board for the project.
Source: People
You can see the first pictures of Sandy recieving her more than deserved MTV Generation Award on 2010 MTV Movie Awards. More pictures will be added as soon as they come out, so keep checking back!
[UPDATED] Bunch more HQ pictures of the show were added to the gallery, check them out!
As you may know, Sandy just recieved her MTV Generation Award at the 2010 MTV Movie Awards. Take a look at the first picture! More will be added as soon as they come out!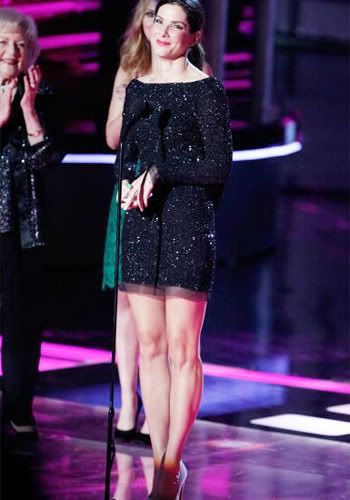 Sandy surprised everybody by making a public appearence at the Spike TV's Guys Choice Awards yesterday! Check out the pics and more information about her appearence!
In her first public appearance since the back-to-back news of her divorce and the adoption of her adorable baby son Louis, Sandra Bullock returned to the spotlight Saturday night, making a memorable surprise appearance at Spike TV's Guys Choice Awards.

There to accept the "Troops Choice" Award for Entertainer of the Year, from presenter Robert Downey, Jr. – the honor was bestowed by members of the military – the Blind Side Oscar winner, looking stunning in form-fitting black, leather mini-dress, received a standing ovation from the audience inside the Sony Pictures Studios in Los Angeles.
Sandy and her adorable baby, Louis, were spotted in Austin, Texas on May 27. They look so cute together, I'm so happy for you, Sandy!
It's true. According to People.com, Sandra Bullock will be attending the 2010 MTV Movie Awards! So now, more than ever, let's keep voting every day for her to win all categories she is nominated. Also, she will recieve a special award on the day! The show will be on June 6!
On Wednesday she was named the recipient of the MTV Generation Award "for her riveting and diverse contributions to the film industry," and her rep confirms, "she will be attending" the June 6 MTV Movie Awards in Universal City, Calif., though she won't be doing any interviews at the ceremony.
I've just read those news on E!Online and though it's nothing confirmed I thought you guys would like the news. Let's hope it's true and she shows up and if she does not show up, it's because she is not ready yet. We will be waiting for you, Sandy, no matter how long it takes :)
We've hearing Sandy is prepping to make her return to the red carpet, and it's soon: At the MTV Movie Awards in Los Angeles on June 6!

While nothing is confirmed, a fashionable source spills that Sandra's stylist has been pulling together outfits from top-notch labels for the Blind Side babe to check out should she decide to strut her stuff for the photogs.

Sandy is nommed for a few of the network's prestigious golden popcorn awards: Best Kiss, Best Female Performance, and Best Comedic Performance.

You'd think after she won the Best Actress Oscar that Best Female Performance would be a no-brainer, but she is running against Bella friggin' Swan. And though we're sure you're all rooting for Robsten to snatch Best Kiss (we are too, trust), we wouldn't mind seeing Sandy and über-hunk Ryan Reynolds swap spit again.

Worst-case scenario: If Sandy loses her categories, she may still take home a very special award. Tho the details are unknown, we assume a lifetime achievement award—or the MTV equivalent.

We think this is a great show for Sandy to make her return: MTV is way more laid-back than some of the alternatives, making it a no-stress return to the industry. And everyone likes being honored, no?
And don't forget to keep voting for Sandy at the 2010 MTV Movie Awards!
Sandy were spotted carrying baby Louis in Austin, Texas, on May 14.
Sandy and her little baby are on the cover of the new Us Weekly Magazine. They look so cute together, make sure you all get your copies!
/