Sandy and baby Louis were spotted at a beach in the Caribbean last week. They had a very nice family moment, according to People.com:
Spending the past week at the Viceroy Anguilla in the Caribbean with baby Louis and other family – including her sister and brother-in-law – Bullock and her group took the time to get massages, drink tropical cocktails, play in the pool and even take a jaunt to a nearby private island.

The family had a blast, a source tells PEOPLE. "The group looked very festive at dinner, laughing and toasting over a long meal and Sandra in particular looked relaxed," says the source.

Bullock and her crew stayed in a private villa, but came out to swim in the resort's pool with Louis, with toys ready and waiting provided by the hotel. Bullock, 46, also emerged to watch the sun set – cocktail in hand – at the hotel's Sunset Lounge.

Some days, she made her way to the spa for a massage. On the day they travelled to a nearby private island, the group ate and swam in the ocean. For dinners, they hit local restaurant Coba on a few nights, a source tells PEOPLE.
Sandra Bullock was out in Austin on Monday, October 18, carrying her son Louis as she picked up her dogs from a training school. Enjoy the pictures!
Sandra Bullock was spotted with son, Louis, leaving a medical center in Beverly Hills, California, yesterday, September 17.
I've also added more pictures of her leaving The Abbey, on September 16. Enjoy!
According to EW.Com, Sandy has recieved a new offer to star in Never Forget
Sandra Bullock has received an offer for the film Never Forget at Screen Gems. The film, according to sources familiar with the project, say it is loosely based on the documentary On Moral Grounds, directed by Robby Kushner, which depicts one woman's quest to reimburse Holocaust survivors who were swindled out of their heir's insurance policies by a European insurance company. The studio has been very hush-hush on this project but has confirmed exclusively to EW.com that she's been offered the role.

The film is one of several movies recently offered Bullock, but she has passed on most of them. Bullock has already said no to starring in New Line's Our Wild Life, aka Elephant Orphanage, which centers on the life of Dame Daphne Sheldrick, an animal conservationist in Kenya who devoted her life to preventing the extinction of elephants. Julia Roberts had been rumored for the role, too. New Line is now regrouping before reaching out to a new leading lady.

Bullock has also turned down an offer to star in Disney's The Odd Life of Timothy Green, a film from Peter Hedges (Dan in Real Life) that centers on a family whose lives are touched by an unexpected child.

It's understandable why the 45-year-old actress may have turned down both Wild Life and Timothy Green. Both parts have inklings of her Oscar-winning role in The Blind Side in them. Wild Life requires her to portray another real-life person, just as she did playing Leigh Anne Tuohy, and Timothy Green centers around a child who changes a family's life, a la Michael Oher.

Bullock is currently negotiating to co-star opposite Tom Hanks in the adaptation of Jonathan Safran Foer's 9/11 novel Extremely Loud and Incredibly Close, which Stephen Daldry is planning to direct for Warner Bros. and Paramount Pictures.

The post 9/11 drama centers on a young boy who finds a key that belonged to his late father who died in the World Trade Center attacks. Sources believe it will be the actress's next project.
Sandy was spotted leaving a bar called 'The Abbey' in Los Angeles yesterday, September 16, with her agent, Kevin Huvane. Take a look at the pictures:
As Sandra Bullock mulls her next move — most likely starring opposite Tom Hanks in an adaptation of Jonathan Safran Foer's novel Extremely Loud and Incredibly Close — EW takes a look inside her stunning comeback, examining how she consciously retooled her career, how she transcended the tabloid noise, and where she might go from here.

One thing's for sure: Bullock has no shortage of options. At age 46, a decade and a half after she jumped on the bus in Speed, the actress is being courted for virtually every female starring role Hollywood has to offer, from a Disney family fable called The Odd Life of Timothy Green to Our Wild Life, a drama about an elephant orphanage. There's also the action comedy EW reported about exclusively in June called Most Wanted, in which she'd star as a criminal suspect being escorted to the courthouse by a U.S. marshal (played by her Proposal costar Ryan Reynolds). "Every movie you hear about and every script I see, they say, 'We're going after Sandra Bullock for the woman,' " says Ben Affleck, who costarred with Bullock in 1999′s Forces of Nature. "She's the golden girl," says a top Hollywood agent. "Everyone is rooting for her. I've never seen anything like it."

Indeed, it's been quite a year for the actress: The two biggest hits of her career. A Best Actress Oscar. A tabloid firestorm. A new baby. EW examines her rising status in Hollywood, and how, thanks to the intangible chemical reaction that creates stardom, she's always had a knack for making audiences fall in love with her. "From the minute we saw her in Speed, she just had this quality that people want to be around," says Bradley Cooper, who costarred with Bullock in last year's All About Steve. "It's like being around a source of light."
Source: EW.com
Sandy was spotted grabbing some coffee in Starbucks in Austin, Texas, yesterday, August 30. Enjoy the pictures!
Tom Hanks is very excited to get work started on the film adaptation of Jonathan Safran Foer's second novel, "Extremely Loud and Incredibly Close." Why? Well, aside from the story — which follows a nine-year-old boy in the aftermath of the 9/11 attacks — he can't wait to work with fellow Oscar-winner Sandra Bullock.

"Well I have left a voicemail for Sandra … Sandy. Can I call her Sandy? I can call her Sandy. I think she called the office back, but I hope to talk to her very, very, very soon," the Emmy-winning Hanks told MTV News at the HBO Emmy afterparty. "The story is magnificent. Eric Roth wrote a brilliant screenplay, which makes our lives very easy because you just read it and you say, 'I would be honored to be a part of this.' "

Although he isn't a close friend of Bullock, he does admire her work. "I am a huge Sandra Bullock fan. I've only met her a couple of times. She is a magnificent actress," he raved. "And every time we've seen her, even just as recently as 'The Proposal' and 'The Blind Side,' we've thought, 'We'd be lucky to work with her.' "

"Extremely Loud" is focused on a New York boy whose father was killed in the 9/11 attacks. The boy finds a key that belonged to his dad, but he doesn't know what it unlocks; the plot follows his attempt to answer that question. Foer's book employs an untraditional writing style that incorporates multiple interconnected story lines, photographs and the like.

The rights to the novel were first acquired several years ago. Scott Rudin is producing and Stephen Daldry ("The Hours") is attached to direct, with a script from "Forrest Gump" writer Eric Roth. Warner Bros. is the lead studio on the project.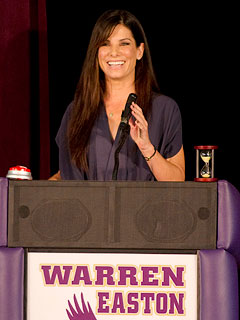 Despite the rain-soaked gray Sunday morning and the somber fifth anniversary of Hurricane Katrina, Sandra Bullock managed to get a laugh out of the crowd at Warren Easton Charter High School in New Orleans.

Flipping over an hourglass, the Oscar-winning actress joked, "THIS is all the time I have."

Bullock, a part-time New Orleans resident, donated money to help rebuild the school and to open a student health clinic. She appeared at weekend events to pay tribute to those behind the hurricane recovery effort.

"I have seen nothing but unimaginable kindness, perseverance and hope right in this room here," said Bullock. "It gives me great pleasure to be in the company of these people who have actually made the difference. They did the hard work, they are here sitting before you."

Joking that she was beginning to sound like a politician – "No offense," she laughed to U.S. Sens. Mary Landrieu and David Vitter – Bullock said that despite the devastation, the anniversary should be seen as day for celebration.

"These young adults have seen the very worst, and they are committed to the very best," said Bullock. " They are our future leaders. I would like to thank the students who step up to the plate and do the hardest work. I didn't do it in high school, and it makes me so incredibly proud."

Wearing a V-neck dark blue knee-length dress, black belt and heels, Bullock stood with school nurse Cassondra Ferrand and principal Alexina Medley and other officials to cut the gold ribbon on the new health facility behind the school.

"It was more than her money," says Easton Foundation board member Arthur Hardy. "She is like our spiritual leader. She is our angel."

"What do you say about a human being who just pours out their heart and soul, who puts their money where their mouth is, walks the walk, talks the talk," adds Mayor Mitch Landrieu. "And even if is was just in a movie, she married a New Orleans boy."

For more information about the school and to donate to ongoing efforts, go to the Warrant Easton Charter Foundation.
Source: People.com
I've added the first pictures of Sandy in New Orleans today, August 29. She looks amazing, don't you think?
/